Digital printing window blinds, shades, and other indoor window treatments is easy with and customizable at SCS! We can provide form and function as decoration choices are nearly unlimited. Here at SCS Wraps have a blast installing wall graphics because it dramatically changes a space. We travel the state putting up walls decals for businesses, hospitals, schools and in homes.
Wall graphics can be permanent or temporary. Luckily we have access to a variety of products with aggressive adhesive and low tac adhesive. We have textured vinyl as well which creates more depth. SCS Wraps can produce high quality customized commercial, retail and residential wall decoration prints: from wallcoverings to posters and canvas.
Wall Graphic pricing depends on a few factors:
Design

We have a talented graphic design team here in house that can create something spectacular using photos and graphics. Design is billed at $95 per hour.

Material

We can print panoramic photos to cover a whole room, die cut a landscape scene with trees, now capped mountains and beautiful valleys. We can also apply just a simple text to a wall to show the company name above say a receptionists desk or in an entryway.

Install

All of our installs are done by 3M Certified Installers. We are the ONLY 3M certified company in over 300 miles. What does that mean you might ask? When you choose to use a United Application Standards Group Member, you can count on working with a professional company and a skilled installer. UASG is the country's leading group of professional graphic installers – proven and tested to be the best in the business. Installers must first pass a rigorous series of tests, and each company must demonstrate sound and professional business practices.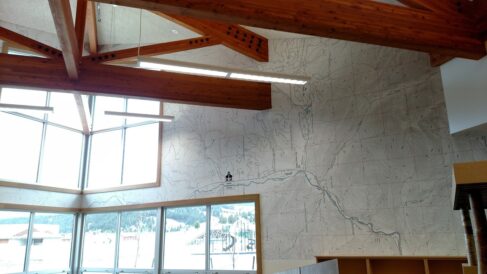 http://www.globalbmg.com/hp/en/products