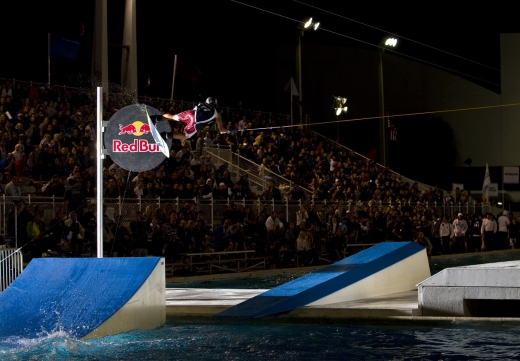 With the help of SCS Wraps, Red Bull has yet again pushed the limits for what's possible on a Wakeboard.  The photos below truly illustrate the level of intensity created with this one of a kind competition which took place at the Red Bull Wake of Fame at the Fort Lauderdale Aquatic Complex.  The event branding was pivotal! SCS was once again given a chance to shine with our large format printing and engineering grade vinyl used for it's super adhesive elements.  With athletes skidding and scraping along the surface of these wakeboard park features, it was a clear choice for the material in which SCS chose for this project.
Check out these updated photos and videos from the Red Bull Wake of Fame event that took place in Florida this past December.  The event went over awesome and it is a new unique way to showcase wake boarding.  SCS Wraps was happy to be included in the branding work for this progressive event!  Hope you all like the photos and videos!
RED BULL WAKE OF FAME VIDEO #1 – CHECK IT OUT HERE!!!!
RED BULL WAKE OF FAME VIDEO #2 – CHECK IT OUT HERE!!!!
For more information on this amazing event please visit:
http://wakeboardingmag.com/features/2010/12/04/red-bull-wake-of-fame-results/