Check out this great article from Red Bull Media regarding the first qualifier for Red Bull King of the Rock in Venice Beach, CA this past weekend.  SCS Wraps is once again in charge of the print production of the King of the Rock logos, partner logos, court media and court lines!  This event has taken off since its conception in 2010 and we cannot wait to see what is in store for 2011!  Cheers!
Los Angeles, CA – June 18, 2011 – It was a picture perfect Saturday as Los Angeles hopefuls took to the Venice Beach courts to battle it out in the Red Bull King of the Rock Los Angeles qualifier.  This one-on-one basketball tournament is comprised of qualifiers all over the globe, with the top 64 players advancing to the finals held in The Yard on the island of Alcatraz on September 24.  Out of the Los Angeles qualifier's field of 64 contestants, only the top two earned a spot in the Finals on The Rock.  Red Bull King of the Rock is the only official sporting ever held on the Alcatraz and will be hosted by basketball superstar Rajon Rondo.
The event, which was the first of 21 qualifiers in the United States, had enough hype to bring players out to secure a spot in the competition several hours before registration even opened.  The high intensity play caused hundreds of passersbys to crowd the courts to get a better look and shout out their opinions on the games.  In addition to the players, two other figures were watching the gameplay more closely that most.  Izeah "Clutch" Bowman, 2010 Red Bull King of the Rock Champion and Christian Yeung, who took first in the Los Angeles qualifier last year.  Both earned an automatic spot in the finals for this year, but were on-site to size up their competition come September.
Photo Credit – Garth Milan / Red Bull Media House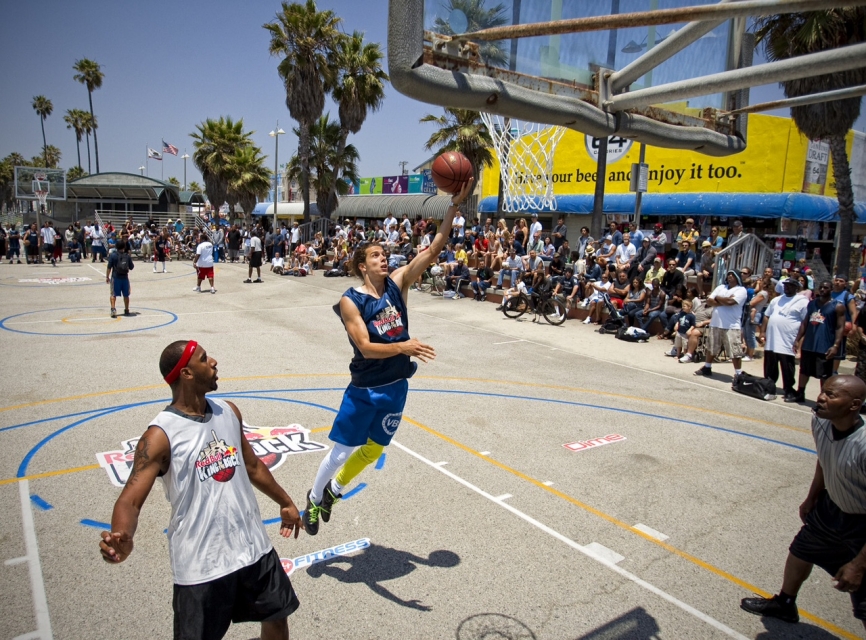 Once shoes were laced up and whistles were blown, it was immediately apparent that this was serious business, and several hours of physical and aggressive one-on-one basketball followed.  Some early games were blowouts, with a few "skunks," where one player failed to score a single point.  But as the day progressed, so did the remaining talent level, and the games became increasingly competitive.  Mark Peters, from Compton, established himself as a crowd favorite early in the day due to his relatively small stature (5'11"), endless hustle and adept ball handling skills.  Constantly matched against taller, heavier opponents, Peters still found a way to win, pushing himself to the limit every minute.  Announcer Mouthpiece was wowed by his tenacity, and nicknamed him "The Heart."
But as "The Heart" advanced to the finals, he met his biggest challenge– 6 foot 6 inch Sheldon "Big Shel" Bailey.  The David vs. Goliath battle that ensued kept the crowd in awe, as Peters effectively matched his quickness against Bailey's size.  It was a close game that could have gone either way, but in the end Peters was able to edge out Bailey with a final score of 11 to 8.  Both Peters and Bailey will advance to the finals and receive an all expenses paid trip to San Francisco to compete on Alcatraz.
"It feels really good to win – sometimes you have a great game but you still lose, so I'm definitely happy with how today turned out," said Peters.  "But I'm not going to settle for this victory, not going to let my guard down.  I'm going to train hard for Alcatraz – I'm definitely hungry for a win on The Rock."
Top Los Angeles Players:
1.    Mark Peters (Compton) – Qualified for the finals on Alcatraz
2.    Sheldon Bailey (Torrance) – Qualified for the finals on Alcatraz
3.    Tracy Cathey Jr. (Lancaster)
4.    Hassan Cook (Anaheim)
5.    Zach Fray (Los Angeles)
6.    Brian Seaton (Carson)
7.    Ervin Estes (Santa Clarita)
8.    Shawn Timmons (Las Vegas)
First held in 2010, Red Bull King of the Rock is the only official sporting event ever held on Alcatraz and the first time basketball has been played on the hard concrete of The Rock since the inmates left the island more than 50 years ago.  The tournament has grown from 6 qualifiers on the west coast in 2010 to qualifiers around the globe in 2011 (21 in the United States).  Sixty-four contestants will emerge from the qualifiers and make their way to Alcatraz for the final showdown on September 24.
Red Bull King of the Rock is open to all ages, amateur and pro alike.  Registration is first come first served at each qualifier, so players should arrive early to grab one of the coveted 64 spots.  Players interested in competing should visit www.redbullusa.com/kingoftherock for more information.  Red Bull has teamed up with 24 Hour Fitness, Skull Candy and Dime Magazine for this historic event.
Through the Red Bull network, hi-res video and still images are captured and made immediately available for editorial use for all media channels including television, film, print, mobile, and digital. The content is centrally located in the Red Bull Content Pool for media partners at www.redbullcontentpool.com.
Twitter – #kingoftherock